The New 1
is the first level pack in
Angry Birds The New
 and contains 7 episodes. In the first pack, all episodes is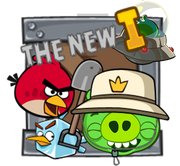 easy to clear and located at the common places (except Honey Home).
Episodes
New Character (other than The Flocks and Bad Piggies)
On the Sea
Deep and Down
Stone Beak Bird 
Missle Bird
Forest Explorer
Honey Home
Archaeopteryx bird
Sheriff piglet 
Pooh bear
Space of Pig
Frozen Pole
Gallery
Ad blocker interference detected!
Wikia is a free-to-use site that makes money from advertising. We have a modified experience for viewers using ad blockers

Wikia is not accessible if you've made further modifications. Remove the custom ad blocker rule(s) and the page will load as expected.