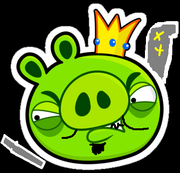 King Pig Wizard is the leader of the Evil Wizard Pig Army. He has a moustache and beard with a gray wand, gray wizard hat, and crown. He appeared in Angry Birds Witchcraft and Wizardary. On the Nintendo DS and Wii his moustache and beard are more straight and lined
Ad blocker interference detected!
Wikia is a free-to-use site that makes money from advertising. We have a modified experience for viewers using ad blockers

Wikia is not accessible if you've made further modifications. Remove the custom ad blocker rule(s) and the page will load as expected.