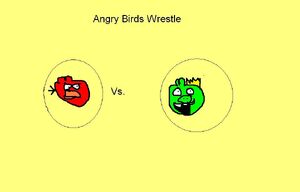 Angry Birds Wrestle being released on April 14, 2010 is a game of Angry Birds. It is about the birds fighting the pigs at a wrestling place.
Biography
The birds wake up one morning to find their eggs missing like usual. They then suspect that the pigs did it, and were they right? pretty much. When they are chasing the pigs they randomly run into a wrestling building, meaning that the birds have to wrestle their way out of the place with the eggs alive.
Episodes
We're Out Alive, and with the Eggs
Ad blocker interference detected!
Wikia is a free-to-use site that makes money from advertising. We have a modified experience for viewers using ad blockers

Wikia is not accessible if you've made further modifications. Remove the custom ad blocker rule(s) and the page will load as expected.