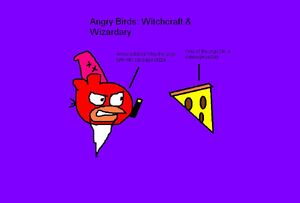 Angry Birds Witchcraft & Wizardary is a game. It's platforms are X-Box 360, and Wii U. (a future platform) The theme of this game is magical themed.
Plot
One day the birds wake up to find they are wizards, but their eggs are missing again. They then realize that the pigs have done it and go chasing them doing all sorts of spells to them. In this game the pigs are evil wizards and the eggs are their assistants. It will be released on the Wii U in 2012 as it is a future electronic.
Trivia
Harry Potter makes an appearance in this game.
Ad blocker interference detected!
Wikia is a free-to-use site that makes money from advertising. We have a modified experience for viewers using ad blockers

Wikia is not accessible if you've made further modifications. Remove the custom ad blocker rule(s) and the page will load as expected.