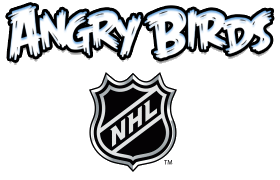 Angry Birds NHL is the first sports installment of the Angry Birds series.The game starts out with thr Red Bird, Blue Bird, and Yellow Bird getting an invitation to the NHL team you selected.
Teams
Anaheim Ducks
Boston Bruins
Buffalo Sabres
Calgary Flames
Carolina Hurricanes
Chicago Blackhawks
Colorado Avalance
Columbus Blue Jackets
Dallas Stars
Detroit Red Wings
Edmonton Oilers
Florida Panthers
Los Angeles Kings
Minnesota Wild
Montreal Canadiens
Nashville Predators
New Jersey Devils
New York Islanders
New York Rangers
Ottawa Senators
Philadelphia Flyers
Phoenix Coyotes
Pittsburgh Penguins
San Jose Sharks
St. Louis Blues
Tampa Bay Lighting
Toronto Maple Leafs
Vancouver Canucks
Washington Capitals
Winnipeg Jets
Ad blocker interference detected!
Wikia is a free-to-use site that makes money from advertising. We have a modified experience for viewers using ad blockers

Wikia is not accessible if you've made further modifications. Remove the custom ad blocker rule(s) and the page will load as expected.